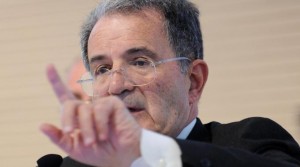 25 October 2013, Beijing
Keynote Speech
Africa: 54 Countries, One Union
Excellencies, distinguished scholars,
The African continent is in a situation of political and economic transition, with some encouraging developments and some negative consequences.
Overall, the economic conditions are greatly improved: Africa is growing at unprecedented levels and in 2012 its GDP grew at 6.6%, compared to 3.5% in 2011.
This increase is partly due to the economic "reappearance" of Libya after its contraction in the aftermath of the 2011 civil war, but West Africa too led Africa's growth, closely followed by Central Africa and East Africa.
However, there are also some critical situations. Two years after the revolutions in Tunisia, Egypt and Libya, social tensions and political violence continue to threat political order and human security.
Moreover, the two economic giants of the continent, Nigeria and South Africa, are facing difficult economic conditions.
Furthermore, despite some encouraging progress in many African countries, instability and armed conflict in West Africa and the Sahel region remain an issue of major concern for the local population and the international community.
As long as security is not restored, the economies of the region will remain vulnerable.
Most problems and conflicts in Africa have regional origins and require regional solutions. The conflict in Mali is a case in point; it is centered in Mali but has its origins and consequences in the Sahel region.
The Sahel, one of the poorest areas of the world, faces complex governance, humanitarian and development challenges. It is plagued by increasing presence of transnational criminal and terrorist organizations, which has resulted in the widespread flow of arms, drug trafficking and hostage taking.
Regional conflicts and civil unrest, like in Sahel, damage the economy in five main ways: they destroy resources, they jeopardize social order and institutional capacity, they divert public expenditures from productive activities to military expenses, they reduce capital stocks and drain financial and human capital.
In order to tackle these different problems what I suggest to do is to employ an innovative approach based on two different but complementary pillars: the first is a sort of "bottom" level approach towards economic and political development, and the second is a "top" level approach towards international cooperation in Africa.
Such an approach largely derives from my experience as UN Secretary-General's Special Envoy for Sahel.
Let us begin from the "bottom" level approach.
First of all, we should fight against the deadly connection between poverty and insecurity in Africa.
In doing so, however, we should not try to impose our models of development on African societies, but rather the starting point is to listen to the local people, to understand their priorities and to take account of their expectations. This will require, as we have already started to do in Sahel, an intense activity of consultation with the involvement of civil society, tribal and religious leaders, members of universities, women organizations, business, and local media.
The first step is to empower experts, local universities and governmental institutions, to discuss and draft  their own plans for development. Their leadership, in the starting phase, is essential to ensure the ownership on their solutions.
The most important element of this bottom-up approach to development is to start with the involvement of the local populations in any economic project, especially the young generations.
If we fail to improve the economic situation of the young African population, the likelihood of criminal and terrorist activities spreading all over Africa will be high. We could be confronted with situations similar to what happened in Mali. 
In regard to the "top-down" approach concerning international cooperation, I would like to begin by stressing that both as Prime Minister of Italy and, in particular, as President of the European Commission I have always believed in African integration and I financed the project of integration through the African Union.
Politically, I ran many risks for this support, especially when I decided through the African Peace Facility to finance the regional missions of the African Union.
I have always been close to the African Union because I am truly convinced that not only the development of Africa, but the dignity of African populations depends from the unity of the continent; a unity that can be organized in a variety of ways, probably around regional organizations that cooperate among each other.
Cooperation within Africa, however, should be complemented by an international framework of cooperation among those actors with significant interests in the African continent: from international organizations like the European Union, the United Nations, the World Bank, to states like the US, China, and many others.
The approach I am suggesting is significantly different from past and current practices, especially from those bilateral policies that most Western countries developed towards Africa in past decades.
Unlike these countries,China has developed a continental foreign and economic policy with interests and investments all over Africa.
China has been able to create a structure of relationship with Africa based on a variety of interests like energy and food security, and Beijing has heavily invested in sectors like mining, oil extraction, agriculture, public works, and manufacturing.
Moreover, for the first time in history, China exports goods, capital, technology, and people. Although Chinese migration in Africa cannot continue for a long time, because of the critical demographic situation of China, it is likely to go on for another generation.
Despite some critical conditions, there is no doubt that Chinese involvement in Africa has been beneficial for the African continent. Africa's current economic growth, after a couple of "lost decades", has certainly greatly profited by Chinese investments.
As I mentioned before, China has been, also, able to develop a continental policy based on diplomatic relationship with most African states.
In a way China has been the first country to understand that Africa will be the continent of the future: both in terms of population, economic growth, and security.
But in Africa China is not only in search of resources and interests to develop.
Beijing is also in search of soft power, because the Chinese leaders know very well that in international politics and economics hard power is not sufficient.
China's presence in Africa and its search for soft power is potentially beneficial for a radical change in the relationship of the entire world with Africa.
Africa must be transformed from a region of competition between old and emerging powers into an area of cooperation for the benefit of the African continent and of the different African populations.
We should try to foster further cooperation over infrastructure and water supplies, in the Nile and Niger regions especially, which is potentially a source of political tension due to climate change and a rising African population.
If cooperation does not take place, sub-Saharan Africa and the Sahel region, especially, will remain the areas most vulnerable to economic disruption, civil conflict, political instability, and terrorism.
The situation in Sahel is particularly troubling: here we have some of the poorest countries in the world experiencing a rapid population growth, with increasing numbers of internally displaced people and refugees, combined with porous borders that jeopardize the very notion and reality of statehood.
Thus, transnational criminal activity and the presence of different terrorist organizations are not a coincidence, but rather the direct result of a variety of precarious conditions.
In order to respond to these challenges every major state has the duty to help the United Nations in the stabilization of the Sahel region. The help might be political and diplomatic; it might be either in financial resources or in kind. But again, every major state should contribute to eradicate poverty and insecurity.
We need also regional agreements among governments and non-state actors with the strong backing of the international community.
We should try also not only to solve the conflicts when they explode, but we should also try to interpret the rising tensions when they emerge.
Thus, competition must be avoided for the sake of Africa, but also for the interest of the international community.
Only by combining these innovative bottom-up and top-down approaches, we might find the path out of misery and instability. Only through more international and intra-African cooperation, peace and prosperity can be attained and maintained.
The complexity of such a project, which involves society and regional and international institutions, is a great challenge in itself. But only if we create a truly cooperation among African governments, civil society and international actors, we can guarantee to the populations of Africa, growth, peace and stability.
Before leaving the floor to authorities and scholars, let me thank once gain our "old" partners in the organization of this Conference, the Woodrow Wilson Centre, the Johns Hopkins University, the African Union and the United Nations. But a special mention, this time, goes to our Chinese hosts: the Ministry of Foreign Affairs of the People's Republic of China, the Chinese Academy of Social Sciences, and the Institute of West Asian and African Studies, which have greatly contributed to the organization of this conference.
I wish you a very productive conference!