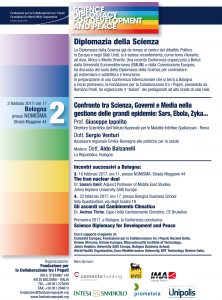 Diplomazia della Scienza
La Diplomazia della Scienza già da tempo al centro del dibattito Politico in Europa e negli Stati Uniti, si è estesa recentemente, come tema rilevante, ad Asia, Africa e Medio Oriente. Una recente Conferenza organizzata a Beirut dalla Università Euromediterranea (EMUNI) e dalla Commissione Europea, ha discusso del ruolo della Diplomazia della Scienza per contrastare gli estremismi e addirittura il terrorismo.
In preparazione di una Conferenza Internazionale che si terrà a Bologna a inizio primavera, la Fondazione per la Collaborazione tra i Popoli, presieduta da Romano Prodi, ha organizzato 4 "lezioni" dei protagonisti ad alto livello di casi reali.
3 febbraio 2017 / ore 11 – presso NOMISMA – Strada Maggiore 44, Bologna
Confronto tra Scienza, Governi e Media nella gestione delle grandi epidemie: Sars, Ebola, Zyka…
Prof. Giuseppe Ippolito – Direttore Scientifico dell'Istituto Nazionale per le Malattie Infettive Spallanzani – Roma
Dott. Sergio Venturi – Assessore regionale Emilia-Romagna alle politiche per la salute
Modera: Dott. Aldo Balzanelli – La Repubblica, BolognaIncontri successivi a Bologna:
16 febbraio 2017, ore 11, presso NOMISMA. Strada Maggiore 44
The Iran nuclear deal
Dr. Sanam Vakil, Adjunct Professor of Middle East Studies,
Johns Hopkins University SAIS Europe
22 febbraio 2017, ore 17, presso Bologna Business School – Villa Guastavillani, via degli Scalini 18
Gli accordi sul Cambimento Climatico
Dr. Andrea Tilche, Capo Unità Cambiamento Climatico, CE Bruxelles
Primavera 2017, a Bologna, la Conferenza conclusiva:
Science Diplomacy for Development and Peace
Con il supporto congiunto di:
Comunità Europea, Fondazione per la Collaborazione tra i Popoli, Nazioni Unite, Unione Africana, Unione Europea, Massachusetts Institute of Technology, Johns Hopkins University SAIS Europe, Bologna Business School, World Health Organization, Euro-Mediterranean University, MIT Technology Review Italia.