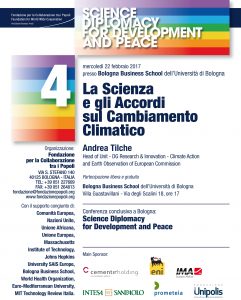 Diplomazia della Scienza
La Diplomazia della Scienza già da tempo al centro del dibattito Politico in Europa e negli Stati Uniti, si è estesa recentemente, come tema rilevante, ad Asia, Africa e Medio Oriente. Una recente Conferenza organizzata a Beirut dalla Università Euromediterranea (EMUNI) e dalla Commissione Europea, ha discusso del ruolo della Diplomazia della Scienza per contrastare gli estremismi e addirittura il terrorismo.
In preparazione di una Conferenza Internazionale che si terrà a Bologna a inizio primavera, la Fondazione per la Collaborazione tra i Popoli, presieduta da Romano Prodi, ha organizzato 4 "lezioni" dei protagonisti ad alto livello di casi reali.
22 febbraio 2017, ore 17, presso Bologna Business School – Villa Guastavillani, via degli Scalini 18
La Scienza e gli Accordi sul Cambimento Climatico
Andrea Tilche
Head of Unit – DG Research & Innovation – Climate Action
and Earth Observation of European Commission
Primavera 2017, a Bologna, la Conferenza conclusiva:
Science Diplomacy for Development and Peace
Con il supporto congiunto di:
Comunità Europea, Fondazione per la Collaborazione tra i Popoli, Nazioni Unite, Unione Africana, Unione Europea, Massachusetts Institute of Technology, Johns Hopkins University SAIS Europe, Bologna Business School, World Health Organization, Euro-Mediterranean University, MIT Technology Review Italia.