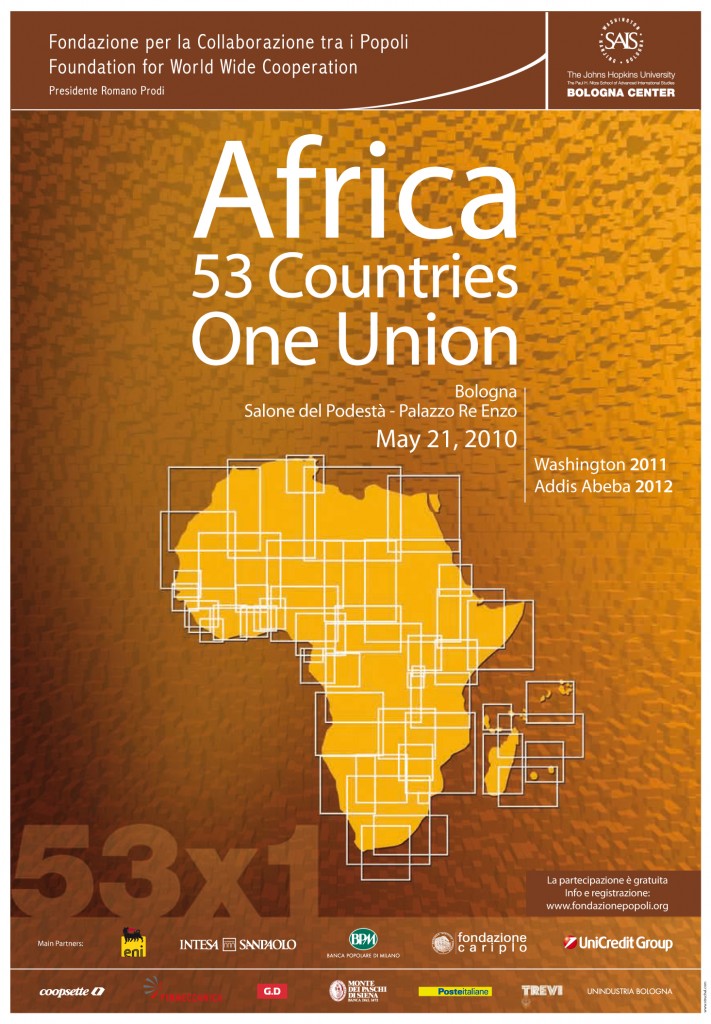 Foundation for WorldWide Cooperation
SAIS Johns Hopkins University Bologna
Salone del Podestà, Palazzo Re Enzo, Bologna (Italy)
May 21st 2010
High Level Conference on:
"Africa: 53 Countries, One Union"
Patronage:
United Nations Economic Commission for Africa, African Union and European Commission
•
Download Conference Forward

Download Leaflet

Download Briefing Book

Download the Conference Summary

Download the Conference Synthesis by E.R. Spreafico

•
Friday, 21 May
09.00 am Greetings from Ambassador Oliva on behalf of Italian Ministry of Foreign Affairs
Romano Prodi, Chairman Foundation for World Wide Cooperation
Asha Rose Migiro, UN Deputy Secretary-General
Abdoulaye Wade, President of Senegal
Thabo Mbeki, Former President of South Africa
Maxwell Mkwezalamba, Commissioner Economic Affairs, AU
Andris Piebalgs, Commissioner for Development, EC
10.45 am Coffee break
11.00 am Session 1. Creating a Political Environment for Stability, Security and Peace – The Key Role of Education
Chairs:
Margaret Carey, UN Department of Peacekeeping
Abdul Mohammed, Darfur Dialogue and Consultation
Speakers:
Thabo Mbeki, Former President of South Africa
Michael A. Battle, US Ambassador to the African Union
Discussants:
Winrich Kühne, SAIS Johns Hopkins University Bologna Center
Steve McDonald, Woodrow Wilson International Center for Scholars
El Ghassim Wane, Acting Director for Peace and Security of the AU Commission
12.30 am "AfricaNews24"
An African all News Project presented by Euronews
01.00 pm Lunch Break
02.00 pm Session 2 Economic Community Building for Markets and Trade
Chairs:
Michael Plummer OECD and Johns Hopkins University, Bologna
Joshua Setipa, Africa Expert WTO
Speaker:
Abdelkader Messahel, Minister of African and Maghreb Affairs, Algeria
Discussants:
Masuka Godefroid Mwenda Bantu Munongo, Forum of Central Africa
Bankole Adeoye, Chief of Staff & Coordinator for Partnerships and External Relations, Nepad

video: Comments & Questions (Munongo, Adeoye)

video: Conclusions & Discussion (Plummer, Atta-Mensah, Setipa, Anyanwu)

video: Discussion (Anderson, Zie, Siala, Koyara)

video: Discussion (Vines, Setipa, Messahel, Mkwezalamba, Mbeki, Prodi, Rushdy, Haddou, Anyanwu, Plummer)
03.30 pm Session 3 Infrastructure and Investment: Energy, Transportation, Communication
Chairs:
Stefano Manservisi, Director-General DG Development, EC
Mohammed Al-Madani Al-Zahari, Secretary General, CEN-SAD
Speakers:
Shantayanan Devarajan, Chief Economist Africa Regional Office, World Bank
Moussa Dosso, Minister, Ivory Coast
Samuel Sam-Sumana, Vice President, Sierra Leone
Discussants:
John C. Anyanwu, Lead Research Economist, ADB
Abdoulie Janneh, UN Commission for Africa
05.00 pm Concluding Round Table
A Road Map: Towards African integration for Peace and Development
Announcement of follow-up conferences in Washington DC (2011) and Addis Ababa (2012)
Chair:
Romano Prodi, Chairman Foundation for World Wide Cooperation
Round Table Discussants:
Asha Rose Migiro, UN Deputy Secretary General
Maxwell Mkwezalamba, Commissioner Economic Affairs, AU
Stefano Manservisi, Director-General DG Development, EC
Michael A. Battle, US Ambassador to the African Union
Zhan Shu, Ambassador at the Department of African Affairs, China Ministry of Foreign Affairs
Thabo Mbeki, Former President of South Africa
Conclusion by Romano Prodi, President of the Foundation for World Wide Cooperation
•
Summary
"Africa: 53 Countries, One Union"
The Bologna Conference on 'Africa 53 Countries, One Union', had a great attendance both in level and number of participants. Over 50 political leaders and experts on African issues from all over the world were able to offer their contribution to the discussion, and about 350 attended as observers.
This document summarizes the background of the Conference, the main items presented, and the conclusions with plans for future work within a largely agreed roadmap.
Background
African states face great challenges to their stability and security.
In response to them, African leaders have built important common institutions. In particular, they have emphasized an approach predicated on building blocks – starting at the sub-regional and moving into regional levels, and then gradually moving towards a continental structure.
Nonetheless there is still significant room for improvement. It has become very clear that only by overcoming the present political and economic fragmentation, Africa can move ahead towards further peace, development and prosperity.
Most developed countries have a great responsibility for the current situation, having always dealt with African states on strictly bilateral basis with no attention for any continental approach. Now it is the time to develop a more meaningful strategic relationship with African Institutions, (African Union 'in primis') starting from the European Union, the United States, emerging powers like China , and the United Nations.
Achieving this objective requires improved coordination and depends from the strengthening and deepening of the existing mechanisms. This is Africa's own vision and it should be supported.
Remarkable progress has been made along this line in the recent past, but as the participants of the Conference underlined, many challenges remain in Security, Trade, Infrastructure and their tight connection with Investments and Development.
Security
The priority must be active conflict management to create a stable and secure environment at the national, regional, and continental levels. The African Security and Peace Architecture is being established including important contributions from the African Union, ECOWAS, SADC, and other organizations. Nevertheless, it lacks resources. It also lacks coherent external support.
Moreover, conflict prevention through Early Warning system should be strengthened since it can avoid military confrontation altogether.
The nexus between peace and development is very clear.
Conflict management to create a secure environment is important and yet by itself is not enough. Indeed without development there will be no stability. As the Prodi Report underlined, peace on the African continent cannot be achieved through the deployment of military force alone.
A second tier of interest encompasses, therefore, economic concerns related to trade, investment, infrastructures.
Trade
Although in the future Africa will have to reduce its dependence upon development aid, it is important to remember that we need to embrace policies that do not harm African development. The key is to have open markets and to avoid market distortions that would impede development in the future. Here integration might be a potential solution. Africa has a long history of integration and regional initiatives. Indeed, most countries in Africa are engaged in more than one regional initiative. There are also multiple initiatives. What is striking is that despite this long history, trade flows remain very low in comparison with other examples of intra-regional trade. If you look at the period from 2005-2008, you will find that intra-Africa trade is low in aggregate. So what steps have to be put into place to increase intra-African trade across the boards?
From this point of view, if you think of the cost of non-Europe, the costs of non-Africa are very high. It is a worthy goal to try to implement African integration because the economic barriers are very high. We need to keep in mind the economic motives for integration – not only within Africa, but with the rest of the world as well. We need to increase market access. This is the key to competitiveness and productivity growth.
The question of intra-African trade is very important. But what are the constraints? One of the problems is the cross-border movement of people and goods. We need to address these cross-border movements because they increase the cost of doing business and trade.
Infrastructure and Investments
There will be non sustainable development in Africa in the absence of infrastructure. Infrastructure is not a target; it is a means of reducing the costs of production and attract investments. We know that Africa is rich in energy resources and other capacities. Geography is not the real problem. The real issue is that Africa's infrastructures suffer from a governance problem. Even compared to other low income countries, Africa has a huge infrastructure deficit in terms of Insufficient supply of electricity , low road and rails density. Moreover, this infrastructure gap is widening. If you compare it with South Asia, you can see how Africa is falling behind in almost every dimension.
There are three things that we can do about infrastructure.
First, you need clear priorities, which should be decided according to the principle of African ownership. There is a plan that has been set by the African Union to create trans-African networks and this needs to be followed.
Second, money is important but good government is even more important. If you do not have security of transaction or protection of property, you cannot benefit from infrastructural investment. We need to improve policy and regulations. According to a variety of studies of the four major transport corridors in Africa, if you look at the costs, you will find that vehicle operating costs are no higher than anywhere else. The transport prices, however, are the highest in the world. The explanation is the high profit margins that are protected by barriers to market entry. The one country that did deregulate – Rwanda – saw a 75% drop in the price of transport.
Third, we need to combine targeted aid and private resources together. This involves a high level of planning, understanding, and certainty. Here is where regional integration or coordinated policies might play an important role in the development and stability of the African continent.
Finally, education is key for human, social and economic development. On this topic there is already agreement among African leaders on what needs to be done. Now it is time to implement it.
Conclusions and Follow up
In order to face these challenging issues, the participants to the conference have agreed that we need to accelerate and strengthen the ongoing process of African integration.
The Foundation for World Wide Cooperation is fully aware of the relevant work carried on by of the African Union and by African regional organizations. This important work should, however, benefit from a sort of 'pentagonal dialogue' among the UN, AU, EU, USA, China, which was agreed at the conference in Bologna.
In view of the future conferences, already planned in Washington in 2011 and Addis Abeba in 2012, the Foundation proposes to organize a general preparatory meeting of high level representatives of the five parties involved (possibly in Addis Ababa) in the fall of 2010. This should help in launching, before the 2011 Washington conference, more technical workshops related to each issues highlighted during the conference in Bologna. Because this line of action has raised significant interests among the five parties involved, the Foundation for World Wide Cooperation will work to implement it.